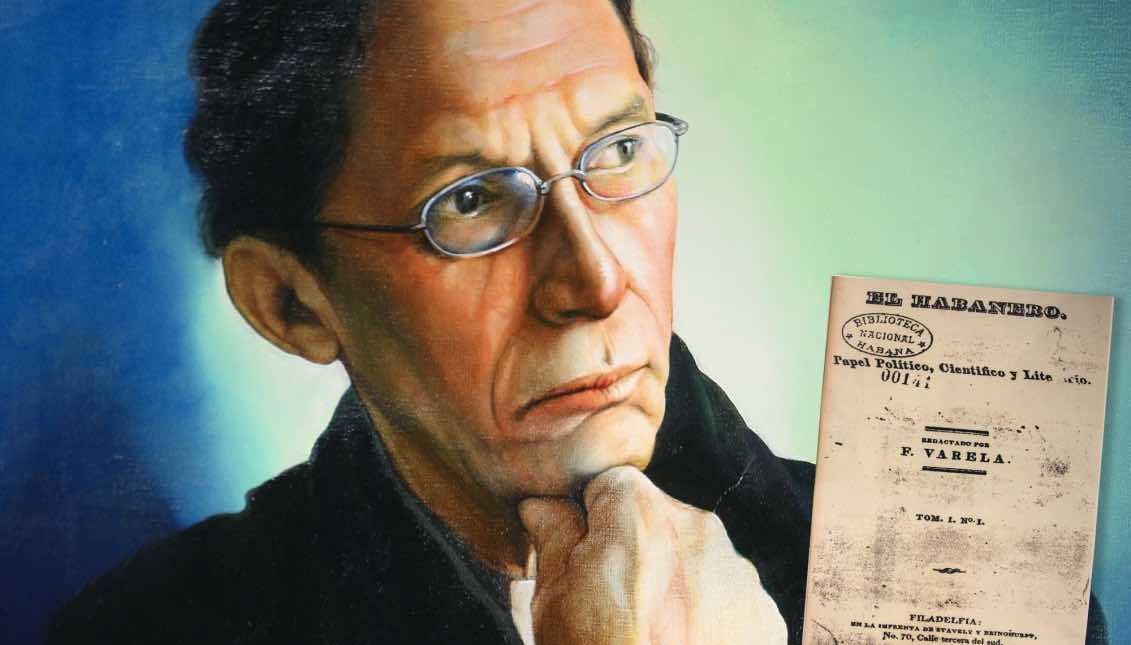 BRIEF HISTORY OF  FÉLIX VARELA 
As an educator, philosopher, and journalist,  Félix Varela's mission centered on freedom of speech. Varela's advocacy aimed to uplift his community and centered freedom through education and social justice. 
 Félix Varela advocacy in Cuba contributed to the development of hospitals and schools in small villages. His leadership created the foundational understanding of science on the island. As a teacher, his students became lawyers, philosophers, scientists, and journalists. Varela taught his people how to think about the issues that influence the world and lead in march towards freedom. Felix Varela was a leader in equity and social justice. 
Coming to the United States in 1823,  Félix Varela found himself exiled to New York due to his philosophical and vocal opinions of the government. Between the years of 1823-25 Varela served as Philadelphia's first latino publisher of local and national news. The newspaper, El Habanero, an independent newsletter, called for democracy and freedom of Cuban's. Varela was an avid believer in constitutional rights and freedom of speech. 
Varela's legacy still holds true today and is the inspiration for Hispanic and Latinx journalists and media leaders. 
HISTORY OF AL DÍA FOUNDATION 
Over the past 2 decades AL DÍA — founded in 1994 by entrepreneurial journalists — has been a place where dozens of young individuals from the Latino and multicultural communities of our nation have found that hard-to-come-by opportunity to have the first experience in the world of news media.
This critical experience has enabled them to bolster their careers with many continuing in the mainstream media, sometimes in multimedia departments, or where their multilingual, multicultural skills and overall business savvy have been highly valued. The AL DÍA Education Foundation was established in 2010 by the staff of AL DÍA News that saw an opportunity to offer the company's unique journalistic and business expertise to help colleges and universities attract, retain and further train new students from the Latino and underrepresented communities in our unique multimedia, multicultural, multilingual and overall entrepreneurial journalism practice.
RESHAPING HISTORY 
In our inaugural year of celebration, we will be honoring individuals who exemplify the characteristics of each of these awards. Their determination, innovation, and novelty uplifts the Latinx community. 
Varela Lifetime Achievement Award
 Félix Varela was known for his leadership within the community and his noble ideals to liberate his people. Known for his innovation and urgency to recognize and support democratic ideals, Varela's ability to innovate within education, journalism, and civics inspired individuals and communities to rise and lead from within. This award is presented to an individual or organization who exemplifies innovation within their associated field and will later be recognized by historians as one of the most dynamic people in history. 
 Félix Varela Medal of Freedom
 Félix Varela Medal of Freedom is the highest honor awarded by the AL DÍA Foundation.  Félix Varela Medal of Freedom is awarded by the Board of Directors  to individuals of exceptional character and distinction who have made significant contributions to journalism, education, policy or civic virtues. Their virtues and characteristics and civic duty uplifts the community and inspires advocates and leaders throughout history. 
El Habanero Medal of Advocacy 
El Habanero Medal of Advocacy recognizes individuals and organizations who lead in policy and administrative efforts to expand access to journalism and media management. This award is for individuals and organizations who support and advocate for multicultural and bilingual journalism, media, and media management.