Council for Multicultural, Bilingual, & Entrepreneurial (MBE) Journalism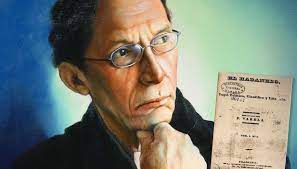 Felix Varela was a cavalier of his time. Born to Cubans in the 1700s, he often opposed the Spanish rule of the Cuban people. Varela's journalism and voice of the people lead him to be exiled from the nation. Throughout his career, his journalism and philanthropy served as the pillar to motivate individuals to stand up for democracy and support freedom of thought
The Council for MBE Journalism is a philanthropic society of international advocates who believe in the power of representation in journalism for the purposes of sustaining democracy. Supporters of this council are individuals and organizations who aim to create an ecosystem of multicultural, bilingual journalism and media leaders.
We invite you to make a gift of $2500 annually to sustain multicultural, bilingual and entrepreneurial journalism by joining this Council established for the leadership of donors who support the Foundations mission. We are pleased to offer a host of benefits that will deepen your engagement and understanding of the power of developing this ecosystem.
If you would like to learn more information, you can reach out to us via email at info@aldianewsfound.org or call at (267) 636-9482‬.
The Al Día Foundation is a nonprofit organization, without a permanent endowment. Additional financial support will allow us to expand our impact and further our mission of advancing the ecosystem of multicultural and bilingual journalism
Due to our work in supporting a transparent free press, we do not accept anonymous donations. Your name will appear in donor recognition materials as you entered it above. Please reach out to martina@aldianews.com with any questions or concerns. At the present time we are only publicly listing donors of $2,500 or more.