Félix Varela Fellowship - Deadline Extended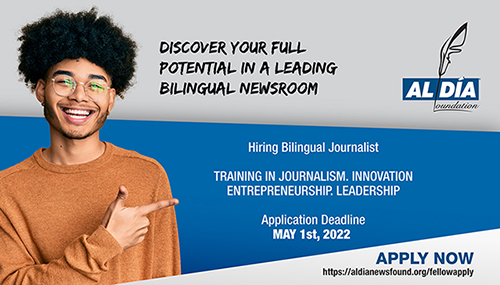 The Félix Varela Fellowship Program is the leading workforce initiative for multicultural and bilingual journalist. Our goal is to strengthen the diversity of the multistakeholder model by fostering opportunities for individuals from underserved and underrepresented communities to become active leaders in the media community. 
We are looking for an efficient and enthusiastic Fellow to join our Félix Varela Fellowship Cohort 2022-23. You will be working at Al Día News, Inc. with Chief Editor, Reporters, Writers as well as Freelancers on a regular basis. Candidates from all regions and sectors are welcome to apply. 
APPLICATION PROCESS
Deadline: May 1, 2022 
To apply for the Felix Varela Fellowship Program to be held in Philadelphia, PA, you will need to fill out this form. Please note, that you need to submit the following materials: 
1. A resume or CV of no more than 2 pages.
2. One sample of published, public-facing work.
Start day: Jun 1, 2022
More Information HERE